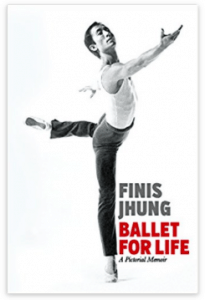 Finis Jhung is a gem, in a nutshell. He has done so much for the art of ballet, mainly through his teaching and teacher training. He is in his early 80s and continues to teach ballet classes in New York City to packed classrooms.
He is an inspiration to me
…someone who stopped teaching ballet due to life circumstances beyond my control but who never managed to get back in front of the class because I felt unable to properly demonstrate. Nineteen years later I tell myself I'm too old to get it back, but when I learned all of Finis' story I realize that being 50 is not the end of life for me and ballet. It could really be just the beginning if it's something I truly desire and if I'm able make positive action toward making it a reality again.
I was a decent dancer at the regional ballet company level; nothing extraordinary, but I had clean technique and loved recording combinations in a notebook from classes by teachers whose combinations were interesting. Creating beautifully crafted combinations was a love of mine, and that led me to designing my website where I shared these, and then I put together a book of combinations for 10 intermediate to advanced classes.
Finis gives me hope and confidence, too. Even though I have an MFA in dance and felt that teaching was something I was good at, when I published my book and created my LinkedIn group I started feeling "small" within a world of critical teachers who know so much more about anatomy and kinesiology or who believe Vaganova exercises are superior to any others. I began to wonder if sharing my combinations wasn't as valuable as I thought it should be to other teachers. But Finis makes a living teaching adult beginners and teaching ballet teachers how to teach ballet, so why shouldn't I share my carefully crafted combinations with teachers whose strong suit maybe isn't ballet?
Finis Jhung has released a beautiful memoir
It is filled with pictures from his dancing days, his teaching days, his surgery-recovery days, and his family days. Today all 54 reviews on Amazon are 5 stars. The odd-numbered pages of the book have a photograph with Finis' remembrances about the period in his life on the opposite, even-numbered page. His is a fascinating story, as he knew at a very young age and after seeing The Red Shoes that he wanted to be a dancer. Even though there wasn't a lot of ballet training for a pre-professional where he grew up in Hawaii at the time, he was able to learn some basics and was accepted into the ballet program at the University of Utah.
I'm taken by how lovingly he talks about his early teachers, even though they weren't world-class teachers. He describes his 45 minute ballet class during his intermediate and high school years and what he does before rehearsals. "My warm-up is to do a couple of grand pliés at the barre; then, grasp an ankle and life that leg as high as possible in second position; and then, holding the leg up, hop across the room on one foot. I repeat it to the other side."
At the University of Utah
He studied ballet with William F. Christensen along with fellow students Michael Smuin, Gary Horton, and Philip Keeler. It's sweet when he says,
Now I know for sure that I made the right decision in choosing Utah. I am no longer the only male ballet dancer I know.
He relates that Mr. C is just 53 and can still demonstrate double tours en l'air and fabulous pirouettes. He learns character dancing and how to use his plié to jump and how to spot quickly to turn.
I found it telling when he writes, "Unfortunately, when I go to New York in 1960, I'm going to forget all this good stuff, as I try to transform myself into THE PERFECTLY TURNED-OUT RUSSIAN-TRAINED DANCER." One thing that has made Finis so popular as a master teacher is the fact that his he teaches dancers how to work within the framework of their own bodies and not force turnout. He teaches dancers how to use connecting steps to dance beautifully, and his use of isometrics allows the muscles to work in a functional, elastic manner. He tells his dancers that to rise up on demi-pointe they must push the toes down into the floor. Instead of thinking of rising, he tells them to think of pressing down in order to rise.
Jhung joined the army in 1960 but after three weeks he is offered a job dancing on Broadway in Flower Drum Song.
Later he is chosen to dance in the film version, and tells us that we can see Love, Look Away!—Reiko Sato, James Shigeta! on YouTube, where he is with the second group of devils who jump from a rock. He also recommends watching Grant Avenue—Flower Drum Song, which he considers one of the best musical theater numbers on film. I've bookmarked these pages in the book so that I can check out these videos later.
Finis Jhung danced as soloist with the San Francisco Ballet, the Joffrey Ballet, and as a principal dancer with the Harkness Ballet. He learned a lot about ballet technique by watching Erik Bruhn, who also allowed him to videotape his variation from the Don Quixote pas de deux, which he then dissected and analyzed. Finis explains that at the time, most teachers simply taught class without much technical explanation of technique. Dancers who were intuitively gifted kept their secrets from others, making ballet elitist and a "bitchy" art.
Finding Buddhism and his future wife
During this time of dancing with the Harkness Ballet, Finis learns about Buddhism which he practices from that point on throughout his life. He learns that by changing his thoughts and actions so they are positive, his outward circumstances can also become positive. He also meets David Howard who teaches the dancers the Joanna Kneeland Technique. She shows dancers films of dancers in slow motion and helps them use physics to make their dancing better. Later, Finis would sometimes teach David Howard's ballet classes in NYC when he needed a sub.
Finis met his wife while dancing with the Harkness Ballet, and he and Yuki married in 1972 and had a son together, Jason. Their marriage didn't last but they parted amicably. (Finis' son is now the operations developer of Ballet Dynamics, Inc., the company Finis started, and has helped him produce many of his DVDs. We also owe him our thanks for encouraging his father to write his memoir!)
When Finis first started teaching, he said,
My goal is to make ballet easier to understand, not only for professional dancers, but also for anyone who wants to learn to dance…my teaching philosophy is based on these Buddhist ideas: Life is full of infinite possibilities and changes from moment to moment. The negative can be changed to positive. Once you learn the laws of dance (the mechanics of movement—which muscles to use, how to use them, and when to use them), you will be your personal best." Finis respects his students and knows that many are going off to a full day of rehearsals after his class and might have performed the night before, so he is considerate about how he plans his classes.
His classes bring in Broadway stars and leading dancers from NYC Ballet, American Ballet Theater, the Joffrey Ballet, Eliot Feld Ballet, Martha Graham Dance Company, the Twyla Tharp Dance Company, and the Paul Taylor Dance Company. He also teaches many professional hopefuls and amateur adult beginners. "I remain committed to re-evaluating and developing uniquely innovative teaching methods that make ballet more enjoyable and easier to learn while preserving the essential qualities that make it a great performing art."
Finis founded a new company called the Chamber Ballet U.S.A
and directed it from 1981-1986. His ballet mistress Barbara Forbes writes,
Finis was a revelation to me when I first took his class during summer visits to New York from New Orleans in the 1970s…his teaching helped students to meet the aesthetic of classical ballet while enhancing their physical, emotional, and even spiritual wellbeing. He urged us to take risks. He taught with immense generosity, abundant encouragement, and the seeming belief that everyone has unlimited potential. Ease and flow went hand in hand with power and strength; efficient use of energy reduced tension and strain; letting go of pretense invited us to dig deep as artists. Attentive practice brought freedom—in dance and also in life.
One of the company dancers, Christine Redpath, writes, "I responded profoundly to two basic principles that Finis taught all of us—from Broadway dancers, to modern, to other bunheads. The first was the idea that when your skeletal body is in alignment, you are in your most efficient state for any movement. Out of alignment, the body will still manage by overcompensating—gripping extra muscles that aren't necessary when you're aligned. The second principle was that of opposition—which exists in science, in nature, in everything. For example, if I do à la seconde with my right leg, then the left side needs to move away from the right side. The same principle applies to the vertical, for turns and jumps. Press down to go up."
Teaching and Ballet Dynamics, Inc.
After his company folded, he continued teaching, and in 1994 his life changed when Denise Daniele, owner of the Denise Daniele Dance Studio in Brick, NJ asked him why he doesn't make videos for teachers. Since then, he has created nearly 50 videos with his business, Ballet Dynamics, Inc! He also has released several CDs for ballet class that I personally used when I taught ballet. The longer lengths allowed us to do a combination at the barre on one side and then turn and repeat it on the second side without having to restart the music. The CDs also include several tracks for tendu (or degagé, etc.) in different time signatures and tempos. Finis says that since September 2017, in 22 years he has sold more than 116,000 items and grossed over $4 million in sales!
In 2007 and 2008 Finis says he finally found his niche teaching adult beginners.
He teaches them how to internalize the movement and work with the muscles in the brain along with the muscles in the body so that they aren't simply striking superficial poses. At the end of his book in chapter 14 (called Reflections) he has compiled pictures and stories written by 27 of his adult students. They are journalists, ice skaters, educators, editors, executives, authors, professors, designers, doctors, psychologists, and dance teachers.
If you order the book from his website you can receive an autographed copy of his book. https://finisjhung.com/shop/memoir/
Subscribe to his YouTube channel for videos with titles such as Ballet for Beginners, Teacher Talk, Turns, Jumps, Stretch (includes Self Massage with Finis Jhung, Age Defying Therapeutic Stretches for Older Adults, Meditative Stretching, and 10 Minute Stretch Break), Finis Jhung Ballet Technique Series (levels 1 through 5), Finis Jhung Classic Classes, and Behind the Scenes.
Here is his channel description:
"Welcome! I've been teaching ballet in New York City since 1972. I've run my own studio and have taught at all the major studios in NYC and today specialize in teaching adult beginners at The Ailey Extension. Here you can see previews of my 48 instructional videos, clips from my 2016 Teacher Workshop, plus Behind the Scenes looks at choreography for my forthcoming video series "The Adult Ballet Student Dances at Home".

It's never too late—for anyone of any age, physical type, or background—to learn ballet. From head to toe, here is a fresh new look and a working knowledge of the fundamentals of classical ballet. Learn the basic positions and movements that are the essence of ballet dancing. The exercises are performed slowly with both hands on a portable barre in front of the mirror. Learn the HOW and WHY of ballet movement."
Thank you, Finis Jhung, for your inspirational life and contributions to the art of ballet. Thank you for raising the bar for ballet teachers everywhere and enhancing the training they are able to give to their students in all parts of the world. Your legacy to the ballet world will surely last as long as the art form itself lasts.
SaveSaveSaveSaveSaveSaveSaveSave
SaveSave
SaveSave