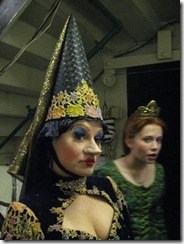 Carolyn was a fellow dance major with me at the University of Arizona many years ago!  We were also roommates for a year.  Now she is dancing on Broadway and was willing to share some advice and inside information for my readers.  Thank you, Carolyn!  And congratulations on a wonderful career on Broadway!
Inside Ballet:  You are currently dancing on Broadway in Shrek.  What was the audition process like?
Carolyn Ockert-Haythe:  The audition process for Shrek was long.  They needed people who were very diverse.  I first went in and danced 3 combinations. About a week later I came back and danced those 3 plus another. Once I had passed all the dancing I had to sing for the Musical Director.  I sang both pop rock and a high soprano.  Once I passed him I then went in to read for the Director.  We were given sides for a few of the fairy tale creatures.  Once I passed him I had to come in one last time and dance, sing and act for the entire creative team and the producers. We started with about 180 women and at the last call there were 4 of us.
Inside Ballet:  How often do you perform?
Carolyn Ockert-Haythe:  I am what you call a swing/dance captain for the show.  We do 8 performances a week with one day off in that week.  I am usually on for at least half of those 8 shows.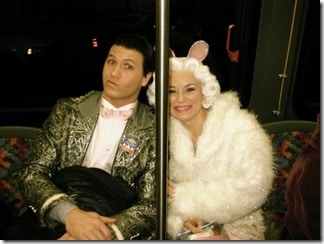 Inside Ballet:  Do you know several roles for Shrek and have to perform at the last minute?
Carolyn Ockert-Haythe:  I cover 9 women and 9 men.  I only go on for men in an emergency, but it does happen.  However since I am a dance captain I know everyone on the stage, 23 people.  I go on with a few hours notice or in the middle of the show with no notice at all, when an injury or illness happens.
Inside Ballet:  What types of dance training do you think are most important to have under your belt going into a Broadway audition?
Carolyn Ockert-Haythe:  I think the most important dance training going into a Broadway audition is a combination of Ballet and Jazz.  If you are a really strong ballet dancer you will really do well. However, you need to be able to be funky as well. Now a days you also have to be able to sing and act.  You don't have to be amazing at all things but you do need to be able to do all things.  A Jack of all trades.
Inside Ballet:  What other shows have you been in?
Carolyn Ockert-Haythe:  This is my 7th Broadway show.  I have been very fortunate and also worked very hard.  Some of the other shows that I have done are: CATS, Footloose, The Music Man, Annie Get Your Gun, Wonderful Town, Pajama Game and The Radio City Christmas Spectacular.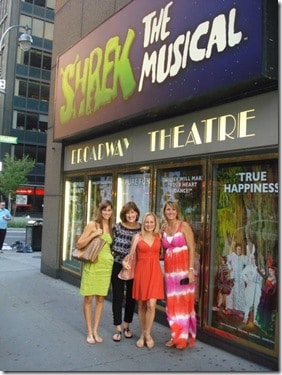 Inside Ballet:  What advice would you give to someone who was hoping to move to NYC to dance for a living?
Carolyn Ockert-Haythe:  Advice that I would give to someone who wants to come to NY and dance, don't give up.  It takes about 100 auditions to get one job.  That number goes down the more you work.  Always strive not necessarily to get the job but to get kept so you get your picture and resume on file with casting agents.  If you get cut at an audition, and you will, don't take it personally.  It is never about your talent.  Always come prepared to an audition.  And last but not least be nice to everyone that you encounter.  Treat everyone with respect.  You never know when that person is going to be sitting behind the table choosing who to hire for a show.
Inside Ballet:  Is there anything about dancing on Broadway that is different that you expected it to be?
Carolyn Ockert-Haythe:  You know I never knew I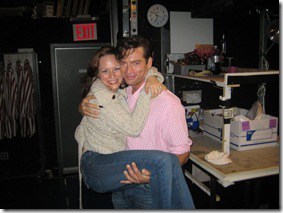 wanted to dance on Broadway so I had no expectations as to what it would be.  I wanted to be a ballerina but I just was never good enough.  I kind of fell into this and knew this was where I was meant to be the first time I hit the stage.  I always say it is like playtime for 2 1/2 hours every night.  I love what I do and I believe we are all capable of doing it.